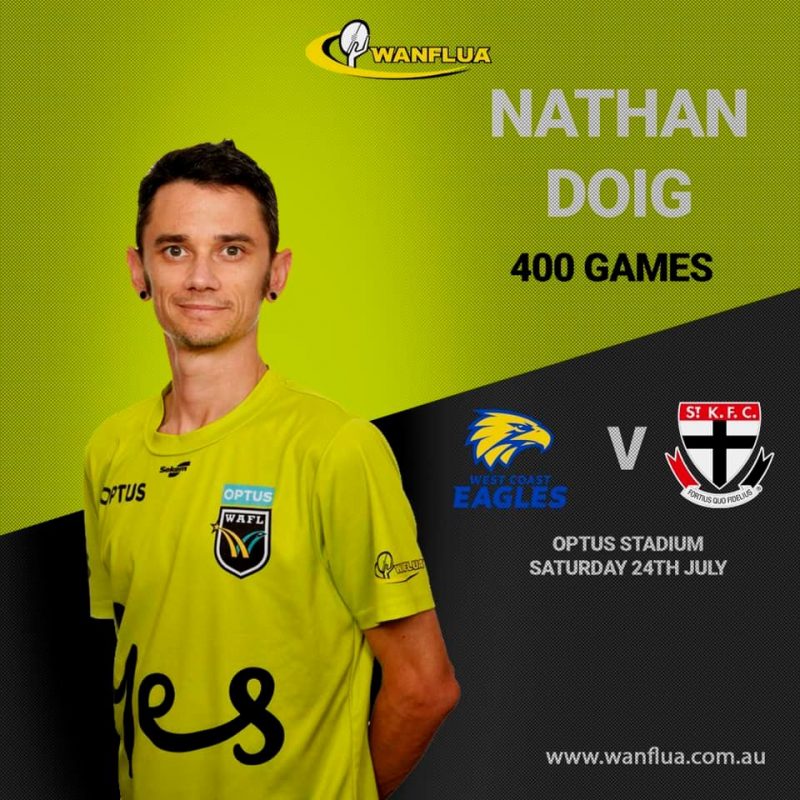 EVERY DOIG HAS HIS DAY
Congratulations to AFL boundary umpire and WANFLUA life member Nathan Doig who will this weekend will become just the fourth WANFLUA umpire to officiate in 400 senior matches.
From the moment Nathan joined the WAFL panel in 2002 he has exceled in his craft. After just 50 WAFL games, including two League grand finals, he was promoted to the AFL panel in 2005 and he has since gone on to run the boundary in 321 AFL games.
Nathan is without doubt the most successful boundary umpire to come from Western Australia, having been selected in five AFL grand finals (2011, 2013-2015, 2018) and twice has been recognised as the top boundary umpire in the country.
While never one to seek the spotlight, Nathan has been an inspiration for many current, past and future boundary umpires and will always offer advice and support to those looking to soak up some of his knowledge and his unrivalled work ethic to be the very best he can be.
Nathan now joins an elite club to reach 400 games under the WANFLUA, alongside AFL field umpires Brett Rosebury and Dean Margetts, and one of his mentors, WANFLUA boundary umpire games recorder Greg Smith.
We wish "Doigy" all the very best for his 400th game on Saturday afternoon when he will run the boundary in the West Coast versus St Kilda match at Optus Stadium.